If you find the immigration issues the U.S. is facing right now to be confusing, you are not alone. If you are conflicted because your heart is hurting for families and children that are suffering but you also believe there are legitimate concerns regarding laws, security, and general well-being, you are also not alone. Be encouraged. Being conflicted means you still care, and that you are willing to be open and teachable.
As I promised last week, below are some talking points on the most urgent situations regarding immigrant and refugee families. There are several links to follow if you want to dig in further. Each section explains the situation, something you may not know, proposed solution(s), prayer points, and further reading. 
My information does not come from mainstream media, nor is it attached to any partisan agenda. This information and the proposed solutions come directly from very reliable sources on the front lines of these issues, all of which are listed at the end of this post. Please fact-check me if you so desire. I would only ask that your sources be at the same level, not from agenda-driven, partisan, media, or mere opinion sources. 
Before you commit to reading this whole post, let me begin by answering a few common questions I keep hearing that are very fair questions:
1. Shouldn't we uphold and follow the laws?
Yes we should. There are many different options within the parameters of our existing laws to show far more compassion to the millions of desperate people who are asking for our help, however. For example (I go into much more detail below): Legally, we can raise the number of refugees from other continents who are resettled by the State Department. Legally, we can grant asylum to those fleeing violence on our continent and still require significant accountability without cruelly detaining or separating families. Legally, we can grant legal status and a path to citizenship to young people who were brought to the U.S. by their parents and are already our "American kids".  
2. Aren't there legitimate concerns regarding things like national security, drug trade, and human trafficking?
Absolutely. Anyone who argues for completely open borders and no process of vetting is misinformed. We are in need of significant reforms to our immigration laws and processes. These are legitimate concerns that must be addressed with each case. With refugees in particular, the vetting process is the most intensive that we have and the State Department assured me and several elected officials personally in a meeting in DC that anyone who does not meet their criteria is not accepted.
3. Are children really being separated from their children for the sole reason that the parents tried to enter the U.S. illegally? 
Yes. This is a crime on the level of a simple misdemeanor. Children would not be separated from American parents for trespassing, unless the child was deemed to be in danger or the parent had a warrant for other crimes. If the child was separated, the child would be placed with a family member or a DHS safety plan would be enacted immediately. The child would not be detained in a facility and be forced to appear before a judge without a personal advocate.  
4. Are the parents being separated from their children at the border really in danger or are they just looking to sneak into the country to steal our jobs and take advantage of our benefits?
The job-stealing argument is a false narrative when it comes to the current asylum-seekers being detained or turned away at the border. Without a doubt, illegal entry has caused significant problems for the economy and job market. The Central Americans who are migrating towards the U.S. are primarily fleeing national violence, gangs and cartels, and threats on the lives of their children. 
5. It is sad what these families are enduring, but why should it be our problem?
As a follower of Jesus and an American, I believe we should use our power and abundance of resources to help and serve the oppressed. From the Christian point of view, I believe God develops into the character of His people both a love and a sense of responsibility to speak on behalf of the marginalized (Matthew 25:31-46). From the American point of view, we have more than enough resources to be the first nation to help the hurting around the world, not the last. With great power comes great responsibility.
6. Why have you become so vocal on these issues that seem political? As a pastor shouldn't you just focus on ministering to and serving immigrants and refugees?
I ask myself these questions often. I have never had the desire to engage in American politics because we are so easily divided on most political issues. Because the global crisis is so critical, and the rhetoric and false narratives are so destructive, I choose to do both. We are actively involved as a family and a church in serving immigrants and refugees who are here. I have also chosen to enter the world of advocacy on behalf of those who we know personally in the U.S. and those on the outside who are in the midst of legitimate suffering and are begging us for help. People from all over the world have heard about Christ's reputation for compassion, and I want others to see that His reputation is true.
If you want to dig in further, please take the time to read below.
Talking Point #1: The Global Crisis
The situation: At the end of 2017, there were 71.44 million people globally displaced because of some form of danger or crippling vulnerability. 23 million of these women, men, and children are refugees or asylum-seekers who have fled their country "because of persecution, war, or violence . . . or a well-founded fear of persecution for reasons of race, religion, nationality, political opinion or membership in a particular social group." (UNHCR). 
I was told personally by a U.S. Congressman in 2017 that we would continue to accept the same amount of desperate people through the resettlement program, just from different places that were deemed more "secure". He absolutely believed that to be true, but he was mistaken. Instead, the refugee resettlement program has been ground to a halt, despite the fact the need is greater than ever. This year the Administration set the lowest refugee resettlement ceiling in the program's history (since 1980) at 45,000. But the number of refugees actually resettled will prove to be even lower. As of June 2018, the US is on target to resettle less than 22,000 refugees in FY2018 because overseas processing has slowed. In some places it has ceased altogether and processing personnel have been relocated to other jobs. 
A Pew Research poll released last month shows that more than two out of three white evangelical Protestants (68%) believe the United States is not responsible for accepting refugees. Yet the largest percentage of refugees resettled into the U.S. are Christians, many fleeing persecution because of their faith.
Something you may not know: Many other countries in the world follow our lead on this issue. Since the U.S. has drastically decreased its admission of refugees in the last 2 years, admissions of refugees and asylum-seekers into other countries worldwide dropped by 59% (as of June 2017). 
Proposed solution: While the U.S. cannot take 70+ million people, we can certainly take a much larger amount of people who are in desperate need. If we raise our number again proportionate to the need, as we did in 1980, perhaps parts of the developed world will follow our lead. 
Prayer guide: Prayer Guide for Refugees and Displaced People
Further reading: The Refugee Burden That Will Not Go Away (World Refugee Day in DC 2017)
Talking Point #2: Families and Children at the Border
The situation: According to multiple sources which sparked public outrage, more than 2000 children were forcibly separated from their parents within a five-week period in May-June 2018 as a result of a new "zero-tolerance" policy from the Administration that mandates all who are accused of unlawful entry be detained. Many of These families ARE asylum-seekers attempting to enter the U.S. with their children because they have fled Central America or Mexico on account of violence, persecution, and legitimate fear. Just this week a staff member in an elected official's office commented to me about the "false narrative" being spread by many that these people are only trying to enter the U.S. to steal jobs or for economic reasons. The truth is the majority of these families are fleeing unspeakable violence that most of us cannot comprehend. 
Though separation and detention have been options in the past, it has never been done to this degree in the U.S. until now. The Administration has made clear that these harsher policies are meant to be a deterrent to both undocumented immigrants and asylum-seekers. Though the Administration did back down on family separation, the "zero tolerance" policy is still in effect and the current solution is to detain families together until their cases can be heard and a determination can be made. As of now, many children still remain separated. It should go without saying that being detained as a small child, with or without one's parents, presents significant risk of trauma and mental health issues. 
Something you may not know: According to US Senator James Lankford (June 28, 2018), there is a 700,000-person backlog of immigration and asylum cases. Lankford recommends moving the hearing of all cases of illegal entry with children to the first priority.
Proposed solutions: There are several perfectly legal alternatives to detention and/or separation that are not only more humane, but also far more cost-effective and productive including:
The

Family Case Management System

had excellent proof of concept and was reported to have a had a 99% success rate. The current Administration ended this program and has not allowed it to be an option. 

Another DHS official check-in system

Ankle bracelet and/or other GPS monitoring or biometric voice recognition

Voluntary Return – those seeking asylum without documentation are immediately returned to the other side of the border. 
Prayer guide: Prayer Points for Separated Families
Further reading: Defenses for Separating Children and Why They're Wrong (Cato)
Talking Point #3: "Dreamers" and Other Young Undocumented People
The situation: Some 800,000 "dreamers" who are part of the "Deferred Action for Childhood Arrivals" (DACA) program, and more than 1 million other young undocumented people who are "DACA-eligible," are in danger of losing their abilities to receive an education, work, and drive in the U.S. Most of these undocumented young people were brought to the U.S. by their parents and this is the only country they have ever known as home. In several different polls, nearly 80% of American voters, including more than 60% of Republicans, favor a path to citizenship for these young people.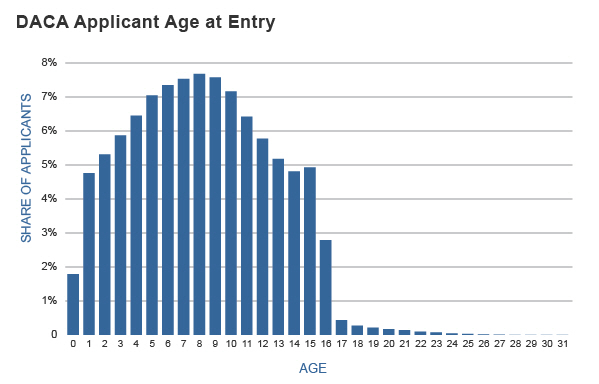 Something you may not know: Deferred action is not new, and it did not originate with President Obama. Deferred action options for undocumented peoples and/or their children have been part of every administration since Dwight Eisenhower (1956). Deferred action allows an undocumented person who might otherwise be deported to have that action delayed until another option is available in cases where they were brought to the U.S. outside of their own control, and it has been proven that the benefits of remaining in the U.S. far outweigh those of deportation. 
Proposed solutions: DACA and DACA-eligible young people are currently being used as leverage for gaining other immigration victories (border wall, increased ICE funding), despite the fact that their needs are urgent right now. Congress can separate the DACA issue from the other issues being considered and rule on behalf of these young people now. If the Administration's order to end the DACA program is upheld by the courts, some 30,000 young people per month will begin losing their jobs and status. 
Prayer guide: Prayer Points for Dreamers and Undocumented Young People
Further reading: A Call to Congress and the Church to Speak and Act for "Dreamers"
ONE FINAL THOUGHT
Congress can act on these issues now. Unfortunately, many of our elected leaders now appear to be waiting until midterms or even 2020 to leverage immigration for election bids. This is unacceptable. A couple weeks ago, the "Goodlatte Bill" failed by 20 votes (193 for to 231 against). Last week, (6/27/18) the more moderate compromise bill failed in the House by an even worse margin (121 for to 301 against). These needs are urgent, and it is unacceptable to sit idly by while the proverbial can continues to be kicked down the road.
Sources:
-Weekly Updates from personal contacts in the offices of elected U.S. officials in DC.
-Personal meeting in U.S. State Department and their published info.
-Published data from US Customs and Immigration (USCIS)
-Published data from United Nations Refugee Agency (UNHCR)
–Evangelical Immigration Table
–International Rescue Committee 
-Published findings in Several Books, Journal Articles
Other Posts on Immigrants and Refugees:
5 Reasons Immigrants and Refugees Are the Church's Responsibility
When Refugees/Immigrants Become Church Family
Love and Hope for Immigrants and Refugees
God is speaking to His people through immigrants and refugees. Will we listen?
A Call to Congress and the Church to Speak and Act for "Dreamers"
A Different Lens – Speaking Up
The Refugee Burden That Will Not Go Away (World Refugee Day in DC 2017)
Why I signed the letter to President Trump on behalf of refugees.